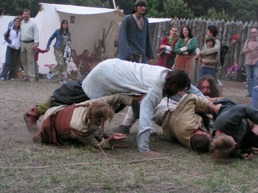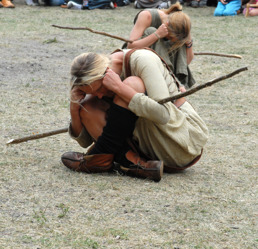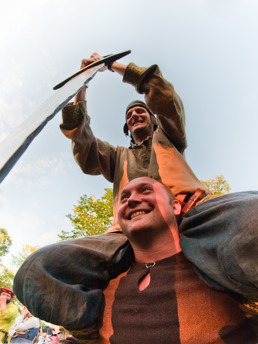 Telge Glima was founded in the year 1990 in Södertälje, near Stockholm, Sweden. The founders came together with a mutual interest in history and old sports and games.

visit our forum here
Telge Glima has about 20 members who has come together with a mutual interest in history and an interest to practice and show old sports and games.

The cultural-society Telge Glima base its activities on performing and instructing the public in old games and sports, showing old games and sports for private companies and private gatherings for their employees to compete in, practice and try out for them self, participating in competitions which supports the practices of old games and sports and arranging courses to encourage the knowledge about old games and sports and the social enviroment they came from.

Telge Glima encourages fun and games, curiosity for our past and our forgotten cultural heritage (games and sports from the old ages) and also for friendly and playful competition. For more reading about us, we recommend the article in , the newspaper of Swedish America, from March 2009.
Hancock, Michigan
Finlandia university
Hacketstown NJ
Vasapark, Scanfest
Minot, ND
Erik Ramstad Middle School
Minot College
Scandinavian Heritage Center
Norsk Høstfest
Manitowoc, WI
University of Wisconsin
Moorhead, MN
Hjemkomst museum
South Elgin, Ill
Vasapark, Scanfest
Green bay, WI
University of Wisconsin
Waco, TX
Scanfest


Bålsta
Bålsta Konferenscenter
Ekerö
Birka
Adelsö vikingavecka
Gotland
Stångaspelen
Huddinge
Hågelby
Jönköping
Allmogemarknaden
Kungahälla
Leksand
Medeltidsdagarna
Ludvika
ABB, Snöån
Mariefred
Norrköping
Stadsmuseet
Norrtälje
Storholmens vikingaby
Sandviken
Årsunda viking
Stockholm
Skansens Höstmarknad
Stockholm Waterfestival
Grand Hotel
Svea Viking
Aifur
Humlegården
Hagaparken
Aspuddens skola
Strängnäs
Karinslundsskolan
Stallarholmens vikingamarknad
Södertälje
Torekällbergets museum
Kringelfestivalen
Farstanäs Camping
Täby
Runrikets dag
Ulricehamn
Uppsala
Q-med
Vallentuna
Runrikets dag
Åkersberga
Medeltidsdagar
Örebro
Wadköping
Eura
Järnåldersbyn
Saltvik
Vikingamarknad
Borre
Vikingamarknad Egge
Karmöy
Vikingamarknad Lofoten
Hàleyg vikingamarked
Odense
Middelalderdagar
Roskilde
Vikingskibsmuseum
Københavns
Middelalder Marked
Budadalur
Eiriksstadur
Hafnarfjördur
Fjörukrain
Stöng
S:t Petersburg
Peter & Paul-fortress
You Want Glima at Your Event?
Comments from our customers!

Valknut combined with Ginfaxirune.
You can hire us to you events. We show games and sports.